Grab the attention with powerful visuals and strong content.
Enhance The Power Of Communication
Content creation is a definitive inbound marketing practice. It is the only way of communicating to your clients. At the point when you create content, you're providing useful information to your audience, drawing in possible customers to your website, and holding existing customers through quality engagement. According to research 61% of online purchases are the direct result of a customer reading a blog.
Graphic design is a significant device that enhances how you communicate with others based upon your content strategy. It is a type of visual content generation and serves to pass on your thoughts in a manner that isn't just effective, yet additionally excellent.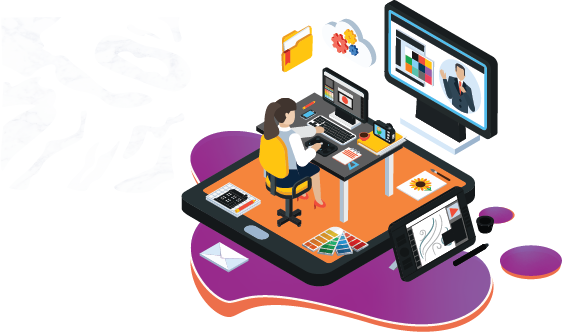 You wouldn't start building a house without a blueprint, a sculpture without a sketch, or a company without a mission statement. So, there should be no content creation without a plan. Otherwise you risk getting derailed from your objective. At Digital Grahak, we make content strategy that includes everything from brand and tone to how we will promote your content and eventually repurpose it.
Regardless of whether it's in print or online, from business cards to billboards, logos, packaging design, flyers, website design and considerably more, Digital Grahak stands prepared to meet your communication needs. We understand the significance of great visual communication and our group of designers are passionate about making you look good. 
Grow your business with our expertise services. Book a free consultation now.
Competitor review
User personas
Target audience goals
Key user groups
Demographic information
User KPI's
Customer value proposition
Competitor analysis
Value proposition
Points of difference
Points of parity
SWOT
Trends
Logmark
Logotype
Custom typography
Calligraphy
Brand elements
Color palette selection
Brand style guide
Business cards
Stationery design
Pitch deck
Proposals
Banner ad design
Packaging design
POP displays
Brochures
Posters
Social Media Posts
Static Advertisements
EMail Templates
Social Media Done Literally Organically For An Organic Brand
We at Digital Grahak partnered with an organic tea company whose idea is to get the best product delivered to the consumers which is not only organic but also responsibly prepared.
MORE INFORMATION
Building Brands From Scratch!
Every company on this planet needs brand identity. We come across 'n' number of logos in a day and thus, it becomes very important to establish your brand among the rest already existing.
MORE INFORMATION
Seeking for graphic designing
and content generation services?
Get in touch with us.