It will help your business to stand  out among competitors, catch people's attention and make a visual impact.
Let your brand talk to shut your competitors!
Brand identity pulls in new customers to a brand while causing existing customers to feel at home. A brand identity helps you with separating your business from the competition and positioning your brand. It is how you design and build your brand through social media, website, apps, etc, thus helping in differentiating your business from your competition and positioning your brand.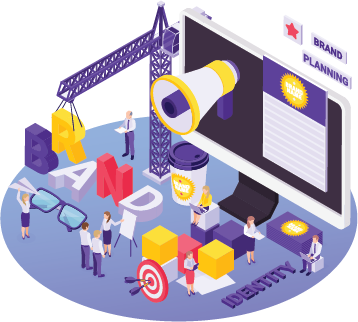 We understand how important "first impressions" are. Not only the Logo but also the Font Style, Color Scheme, Tagline and much more all of which heavily influence the overall brand identity and its vibe. It is only a matter of seconds when a consumer decides the fate of the product, it becomes a fight that has to be handled creatively. There are multiple alternatives available in the market, but in order for your product to stand away on top from all competition, our branding marketing experts will provide you with the necessary expertise to stand out from your competitors. 
Grow your business with our expertise services. Book a free consultation now.
Competitor review
User personas
Target audience goals
Key user groups
Demographic information
Customer value proposition

Competitor analysis
Value proposition
Points of difference
Points of parity
SWOT
Trends

Logmark
Logotype
Custom typography
Calligraphy
Brand elements
Color palette selection
Brand style guide
Business cards
Stationery design

Building Brands From Scratch!
Every company on this planet needs brand identity. We come across 'n' number of logos in a day and thus, it becomes very important to establish your brand among the rest already existing.
MORE INFORMATION
Increased Sales Performance Through Website : 42%
A revolutionizing India's leading brand name in sauces, dressings and dips required a website and online presence to coordinate with its new actual appearance.
MORE INFORMATION
Seeking for a
Digital Marketing Agency
for small businesses?